Couples, Stories & Experiences – Payal & Akash
Couples, Stories & Experiences – Payal & Akash
Today we bring you exclusive chat session with a lovely couple who is madly in love with each other & share their experience of wedding preparations. We hope this chit chat session helps the "couples to be" in their wedding preparations & in their married life also.
Name: Payal & Akash Gupta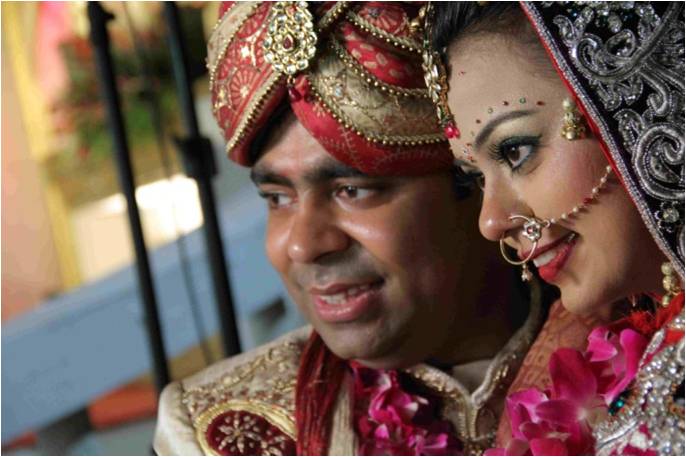 Question 1: When did you get married?
 26th April 2012 quickly answered by Payal while Akash is still thinking.
Question 2: What factors influenced you in getting married to each other?
Payal: When I met Akash through our families I knew from our 1st meeting that he is the one. When we first spoke to each other we both could really connect & we had similar nature, likes & dislikes .So, I wanted to get married to him at the first go itself, no better way to spend your life with your best friend.
Akash: Her nature attracted me the most & spending your life with the one who understands you & accepts you the way you are.
Question 3: What was the first impression regarding marriage?
Payal: I had to take up lot of responsibilities & be little more serious in life.
Akash: End of the bachelorhood & my mastis & most importantly reaching home on time!!
Question 4: During the time you got married, what are the pieces of advice given to you by some of your relatives?   
Payal: Respect your  in laws was always the first advice given to me by my family, treat your in laws in the similar way you treat your father, mother or your siblings, try to adjust  & most importantly learn to cook.
Akash: To make her comfortable in her new house & helping her wherever I can.
Question 5: What is the most difficult/challenging aspect in planning a wedding?
Payal: For us it was finding the right venue for the wedding, going from places to places in search of good ambiance, accessible location coupled with tasty food which also fits our budget. I remember me & my family took an entire month to visit different parts of Delhi before finalizing the venue.
Akash: Going for shopping was very tiresome & time consuming.
Question 6: Any tips you would like to share with the couples to be ?
Payal: Don't be nervous on your wedding as you end up getting bad pictures. Remember to be confident & smile to get beautiful pictures.
Akash: Things change a lot after your marriage try to accept them gracefully.