Affordable Muslim Wedding Cards Available Online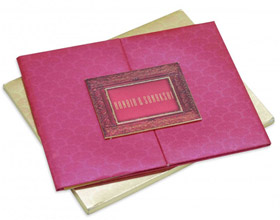 Just like other religions wedding cards play an indispensable role in Muslim wedding ceremony. Therefore, it is very significant to select the beautiful wedding cards, according to your rituals and culture.As marriage is the great bond of relationship among the two families of the bride and groom it is important to invite them all near and dear ones to marriage Muslim wedding cards play a vital role.

The Islamic wedding invitations have unique features, though many people still prefer using traditional style cards. The main intention for opting to wedding cards is to announce the name of the bride and groom, as well as their lineage, and details of the venue, date and time of the wedding ceremony.

In Muslim community wedding there are two main events. They are called Nikah and Valima. The cards which come from the bride's side are called Nikah Cards and the cards which come from the groom's side known as Bulimia Cards.

Islamic civilization is quite different from other religion. As there are a number of traditions, cultures and rules to be followed. Wedding in Islam stands for the grandness of religious belief and customs. In Islam weddings are called as Nikah. Valima is another name for reception.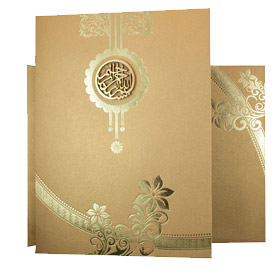 Nikaahnama usually contains Quraan versifies which is not mandatory, but it is the belief that they impart blessings on the newly married couples as they are starting their new lives.
In general, there are several common factors most of people in Muslim community prefer to the unique look of their wedding cards. Many Muslim wedding cards have written the name of "Allah" in Urdu. Which means 'In the name of Allah'. There are also some symbols mostly used in wedding cards like Roses, Crescent and star.

Use of the crescent and star represents the Almighty Allah. And commonly used colors are red, green, blue and cream colors where green color has religious importance and red color represents the fertility. Materials used in making cards are velvet, silk, satin, metallic paper or handmade paper, some kind of stones and a piece of jewelry for an attractive look.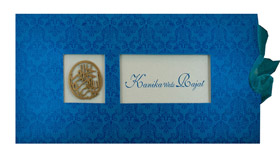 Wedding Thus Muslim wedding cards play a pivotal role in all weddings that follow the Muslim rituals. Hitchedforever.com is offering a large collection of Muslim wedding cards where you can place your order online and it ensure the delivery of your order at your doorstep. Price range starts from Rs.15 and goes up to above Rs.499. It is one of the fastest growing online store which is also offering its services globally.