Latest Indian Wedding Invitations Available Online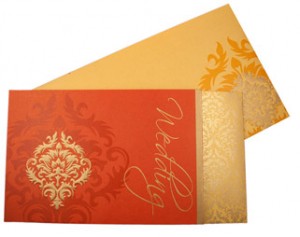 Since from the ancient Indian Society wedding ceremony resides a most memorable moment in one's
life. Unlike this, people invite their near and dear one's and well-wishers for their wedding ceremony to bless the newly married couples because a wedding is considered as the spousal relationship of two souls in one.
Though Indian Wedding Invitations play an essential role in inviting their guests to their wedding ceremony, it is very important to select the unique wedding invitation cards according to the wedding theme and taste of the wedding couples.
In India selection of the Indian Wedding Invitations can be made depending upon the different cultures and customs of the bride and groom. And Hitchedforever.com is the one stop source for all your needs.
It is one of the best online wedding invitations printing stores specializes in printing the wedding cards of the most religions, whether it is a Hindu wedding, Muslim wedding, church wedding, Sikh wedding or a multi faith wedding.
Also providing wedding related items such as wedding boxes, RSVP cards, thank you cards, menu cards, sweet boxes, shogun envelopes, designer envelopes, and other wedding accessories online.

Every couple wants a wedding card according to their taste and preferences. There are so many designs, colors, patterns, styles of wedding invitation cards available according to the theme of marriage.
In this modern technology traditional wedding invitation cards still playing an important role in wedding ceremonies. Different traditional symbols also used when making wedding cards depending upon the one's culture and rituals.
In Hindu religion most of the people prefer to make the symbols of Lord Ganesha and Radhakrishna and when coming to the Muslim wedding invitation cards they prefer to use the symbols of the crescent and star and roses.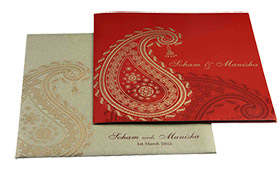 Wedding Invitations are not only just simple cards they describe the adhesiveness of the two families of the bride and groom. And creates the first impression of the upcoming wedding ceremony and stands as the status symbol of the families of couples that are getting married.
Hitchedforever.com adheres to all your needs when printing the marriage invitation cards. It is offering wide range of wedding cards and other wedding related accessories at low cost. Price range starts from Rs. 50 to above Rs. 501.
According to budget one can select premium invitation cards, budget invitation cards, designer invitation cards and luxury invitation cards. Right from home sitting in front of a computer, you can select wedding invitation cards, according to your choice and make an order online at our portal and grab exclusive discounts and offers.
For the orders above Rs. 500 we couldn't take delivery charges. We are providing our services not only in India but also in Canada.