Confessions of buying Wedding gifts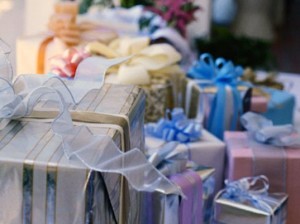 Wedding gifts from guests
We all know gifting is sweet but difficult task for any guests, especially when the bride or grooms are so much connected to us. You definitely want them to remember your gift forever and make them smile when they open your gift. It could be your family friend or office colleagues; at some point, your gift makes some impression on them. It does not mean it has to be the gift which is worth lots of money, but it should be the gift which is worth lots of smile and happiness.
"Gift the gift not for gifting but for making them smile, so that your gift is worthwhile"

Are you ready to check some of the confessions of wedding guests, what they thought while buying the wedding gifts?

Mrs.Chopra – When I went to buy the gift for my close friend's daughter, the first thing that came in my mind was " She is like my own daughter " .I would charm her by gifting a golden bracelet's that whenever she wear that she will remember me .

Sarah – It was my best friend's wedding; we were besties since school, so I know her all secrets. You know what gifted her ," Well that was the collection beautiful lingerie's"

Murtuza – It was my office colleagues wedding, as a boy I am too bad in gifting .I thought the shopping gift card would be a better option. He will buy whatever he needs.

Shami– It was my friend's wedding; I gave the task of buying the gift to my sister. She got a beautiful golden dinner set.

Jennifer– My old cousin was getting married, I had no time for buying a gift for her, I did some online shopping I gifted her beautiful jewellery box with box full of artificial jewelries.

Monica :- " I was so bored thinking of the wedding gift , at last i gifted the box full of chocolates "

Tarun:- "Being a guy, and gifting a girl was a tedious task" After all she was my old friend ,i thought of many things like gold ring,a saree, a dress , a make up box but ended up gifting a wrist watch  .

Sanah :- "After all it was our buddy' s wedding , she is chirpy girl in our group " We thought to make it special for her .We gifted her many things which included an album with collage of our photographs, a camera (as she love posing) and the gold ring.

Melvin :- "It was strange feeling that my best buddy was getting married , he is first cousin too " I gave him a wine bottle !

Aunt Tara :- "I have seen her since her schooldays" I though to gift her thing which will be useful for her, so i gifted her Kitchenware.
Well, so many feelings and so many thoughts. Have we ever thought of that the gift is attached with so much of love and kindness of our closed ones.
So many options and so many thoughts while you gift a wedding gift, Lets a make an effort that whatever you gift is useful and make them happier and cheer them.