Fortune Cookies for your Wedding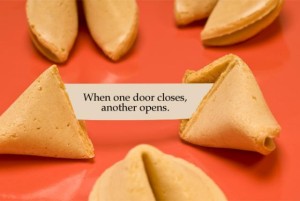 Have you heard of those crisp cookies with a piece of paper, a "fortune" on which is words of wisdom written? You can replace the words with the message for your guests or the message for the bride & groom. How about the paper with blessings?Fortune Cookies are often served as a dessert in Chinese restaurants.
After the famous Wedding mithais for the guests, here come the Fortune cookies which can be added in your wedding boxes.Since, Tea is one of the favorite beverage in India, you can say the combination of fortune cookies and Tea goes well.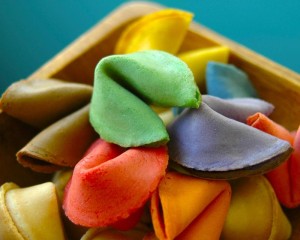 Yes, you heard the right fortune word.Nowadays the nuptials of couples includes a Chinese crisp to their celebrations by putting fortune cookies in their mithai boxes.What do you think are Fortune Cookies?
Let's have some fortune looking at the fortune cookies.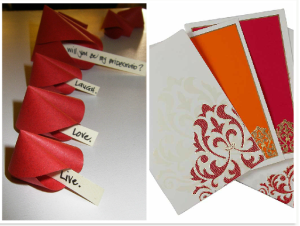 Message Fortune Cookies
Mostly you will all of the fortune cookies with messages such as Love, live well, bless you.But do you know the fortune cookies are often used fro bride and grooms to express themselves during this special day of their life!Here are some of the Fortune cooking wording you can probably use for your wedding cookie.
Something old, something new, 
Some good fortune just for you!
Rohan & Tina 9-26-15
Love is patient. Love is kind.
Love is not boastful or rude.
"Here's to the bride, may your hours of joy be as
numerous as the petals of your bridal bouquet."
"To the man who has conquered the bride's heart…
and her mother's" Kalon & Donald August 25, 2014
Today I marry my best friend,
the one I laugh with, live for, love.
Shama & Abram April 6, 2015
Coloured Fortune Cookies
After the innovative message fortune cookie.Let's combine the colored fortune cookies with designed sweet boxes.Replace the sweets with the fortune cookies.Nowadays we have creative designed sweet boxes, why not make good use of them? Add the coloured fortune cookies and offer them to your guests.If you want you can add a personal message in the box or the cookies.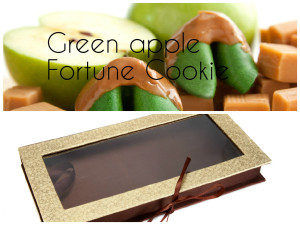 How about the green apple cookie in the chocolate color sweet box, to add some more taste to the cookies, you can add liquid chocolate or caramel to the cookies.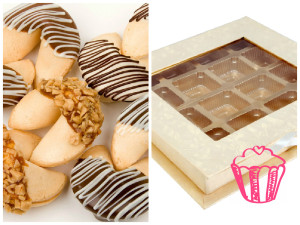 How about Chocolate coated cookies? I guess it would be the yummiest wedding favour of the season.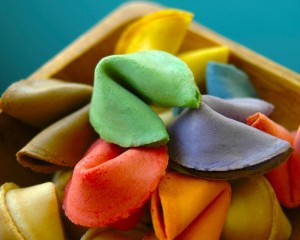 Flavoured Fortune Cookies
Like Flavored cupcakes, there is flavored fortune Flavors like Red apple, Green apple, Raspberry Strawberry. The fruit flavour cookies are highly popular in the west.They are good to taste and healthier option for sweet cravers.
Go and add these Unique items in your Wedding favours